New Jersey Could Start Offering Sports Betting Within Weeks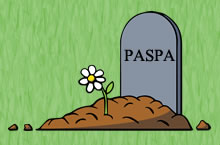 United Kingdom-based worldwide sports betting operator William Hill is confident that its Monmouth Park operation in New Jersey will be up and running in the very near future, possible within even just a few weeks.
William Hill USA CEO Joe Asher didn't waste any time issuing a statement to that effect either. In fact, an update on the progress made at the New Jersey horse racing track that will be site of the Garden State's first legal sportsbook came just minutes after the US Supreme Court released its majority decision to strike down the Professional and Amateur Sports Protection Act of 1992 (PASPA). According to Asher, now that PASPA has bitten the dust by virtue of the SCOTUS justices declaring the blanket ban on sports betting outside of Nevada to be unconstitutional, New Jersey's plan to get in on the game will be coming down the pipe "as soon as possible."
"[Tuesday] the hard work is going to begin to get ready to open for business at Monmouth Park," Asher said.
Asher's comments as to when the "hard work" is set to begin are a little misleading, as William Hill has actually been working on opening up a sports betting location at Monmouth Park for the past several years. The apparent gamble – worth an untold number of man hours and somewhere between $5 million and $10 million – that PASPA would be declared unconstitutional and ripped from the federal legal rolls makes 100 percent sense in hindsight.
"We made the bet that we wanted to be ready in the event that the Supreme Court ruled for us," Asher said. "We didn't want to wait and start figuring it out today; we were working on this going back to the beginning of the year."
The William Hill US boss said New Jersey, which already has the second biggest gaming market in the United States after Las Vegas, could develop into a $10 billion sports betting marketplace now that PASPA is dead and buried.
If that's true, then not only will the Garden State be poised to start offering sportsbooks and New Jersey gambling sites at all its Atlantic City casinos and every racetrack inside its borders but it also could one day surpass Nevada's annual handle by at least double. Credit where credit is due, New Jersey – the de facto suburb of the nation's most populous city – is smack dab in the middle of the most densely populated region in North America. With plenty of would be sports bettors to draw from, and with a massive head start over nearby competing states like New York (which will necessarily have to kowtow more to the interests of the greedy pro sports leagues), Massachusetts and Connecticut, it would make sense that New Jersey could soon become the new hub for legal sports betting on this continent.
At any rate, Monmouth Park is poised to start offering the services of its sportsbook sooner rather than later, so it would probably be wise, as the lines might soon be stretching around the building at the historic racetrack.